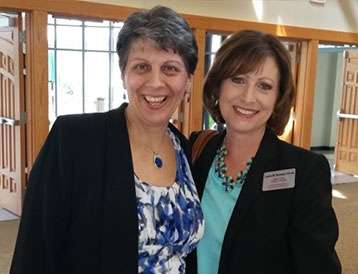 The Illinois Healthcare Action Coalition congratulates Robin Hannon, MSN, RN, Director Personal Health, St. Clair County Health Department, Belleville, Illinois on being one of 25 nurses from across the country selected as a Public Health Nurse Leader by the Robert Wood Johnson Foundation. She will participate in a two-year leadership development program designed to strengthen the capacity of senior public health nurses to improve health and lead collaboration in their communities.
As a part of this program, Hannon will work closely with the Illinois Healthcare Action Coalition to implement recommendations from the Institute of Medicine's Future of Nursing report, as part of the Future of Nursing: Campaign for Action.
Hannon is a Director of Personal Health at the ST. Clair county Health Department, which is located in the metro-east area of St. Louis, Mo.  Hannon is working in a leadership capacity with a coalition that is in the process of forming a consumer coalition that will give women a direct voice in the Maternal Child Health plan for the Illinois Department of Public Health.
"We congratulate Robin on her award," said Dr. Maureen Shekleton, IL Center for Nursing Chairperson and co-lead of the Illinois Healthcare Action Coalition. "We are so excited to work with her and for the public health expertise they are bringing to our Action Coalition. This collaboration will help us to further our work building healthier communities here in Illinois."
Robin Hannon, MSN, RN and Southern Illinois University at Edwardsville Dean Dr. Laura Bernaix at the IHAC Diversity forum, Edwardsville, IL on August 27, 2015.